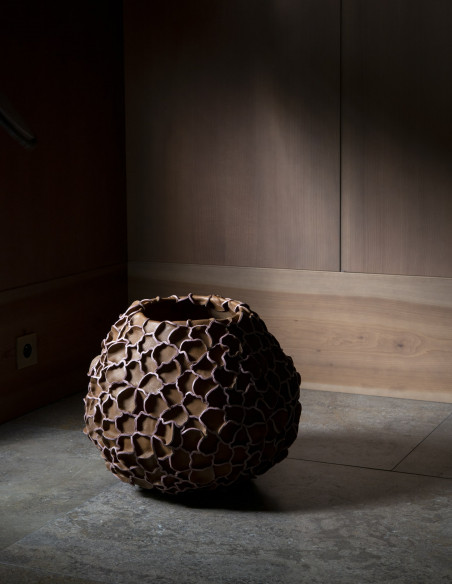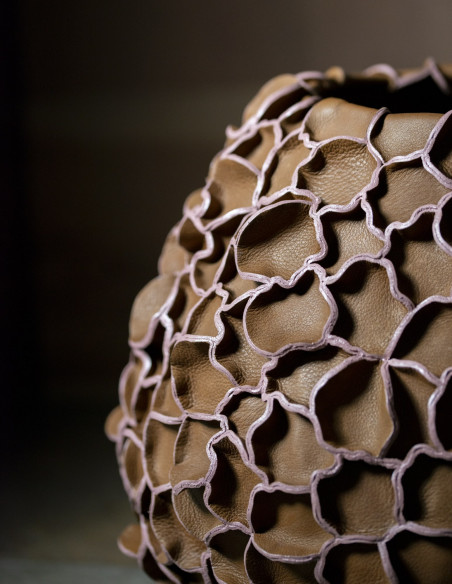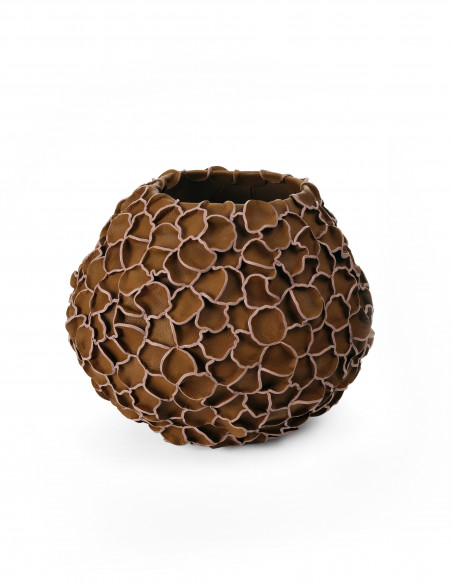 Created as part of the upcycling collection project, Liaigre Upcrafted, this decorative vase is the result of the relationship between Studio Liaigre and a French workshop that usually takes on haute-couture projects. 
The delicate assembly of leather petals gives this large decorative vase its sculptural design. The gesture of folding and welding each element gives surface effects, highlighted by the tinted and waxed edges of the leather pieces. We can say that the shape of the pieces has inspired the technique. 
Every Liaigre Upcrafted product is unique, the proportions of the marble or the bronze pieces. colors, wood grain may vary.
Material: Liaigre leather. 
Sizes: 48x48x40 cm 
VASE EN CUIR 48-002 / 48-003 / 48-004
Made in France. 
Leather is a living material, sensitive to the elements. Water, intense heat or direct sunlight may alter its appearance and colors. Those care tips will help you preserve your product lastingly.
The packaging of these objects is custom-made by a French workshop that processes recycled cardboard; its handles are made of Liaigre leather strips.
50% of the profits from the sale of these object will be donated to the « Compagnons du Devoir et du Tour de France » charity to support the cabinet-making and leatherworking crafts. 
Our world
Liaigre is a House of creation whose value proposition lies in simplicity, quality, balance, and beauty. We have been designing and creating spaces and furnishings for over 40 years. Synonymous with French taste and style without ostentation based on exceptional expertise and furnishing design, Liaigre comes from a long line of 
great eighteenth-century cabinetmakers and interior designers as well as Modernist designers from the 1930s. Liaigre takes a fully exclusive, personal, and intuitive approach to its work. Its style is part of a classicism that draws from the current time period and expresses its epoch.